Rishworth QRP Convention Saturday 26th OCTOBER 2013
OPENS AT 10.00am * ADMISSION £2.50 * DOORS OPEN 10am * TALK-IN S22
LARGE SOCIAL AREA * LECTURES ON QRP SUBJECTS * BRING & BUY - SURPLUS JUNK
COMPONENTS KIT TRADERS * FOOD & DRINK ALL DAY WITH THE FAMOUS PIE AND PEAS * ON-SITE CAR PARKING ONLY AVAILABLE FOR THE DISABLED. PLENTY OF ON STREET PARKING.
Rishworth 2009 photos from John G7NSN
Rishworth 2010 photos from John G7NSN
Rishworth 2012 photos from John G7NSN
... and on Youtube
The GQRP Convention meets at the Rishworth School, on the A672 (Ripponden) road from junction 22 on the M62. The school at Rishworth have bent over backwards to help us transfer to their premises, and George G3RJV has organised the usual lecture stream. The speakers will deliver their talks in a purpose built lecture theatre, and we have an excellent range of speakers. Even the regular pie man has promised to serve the usual excellent fare.
Buildathon & Constructors Evening .
A Buildathon is where novice constructors build a project under the guidance of experienced radio constructors.
Project: The 2013 project will be RSGB Centenary Receiver (20m PSK) - all parts will be supplied.
Booking your place for 2013 : The arrangements are here.
Ian Keyser G3ROO
Spy Sets with SM7UCZ
More details to follow
Paul Darlington M0XPD
Occam's Microcontroller
Following his recent article in SPRAT, Paul, M0XPD explains by example how simple micro-control systems and DDS modules are of use to the radio amateur. He says: "this talk is not aimed at digital specialists – rather I will try to show how new, inexpensive, accessible resources present an exciting opportunity for ALL who like to build and operate simple radio systems".
Colin Turner, G3VTT.
Salt Water, Medium Waves and QRP
QRP Operation from the last offshore radio station 'Radio Seagull'
This talk outlines the activities at sea on Medium Wave and on the 80m band and the various challenges. If you enjoyed Radio Caroline in years gone by then this is for you. For once QRO and QRP mix to make a ripping story that involves music, radio, CW and a storm!
We hope that the presentations will be streamed live on the internet by Steve Fletcher, G4GXL.
The table booking arrangements are in the very capable hands of Dick Pascoe G0BPS (01303 894 390).
Note: All tables are currently booked. If you would like to be put on a reserve list please contact Dick. .
Here is a map and here is another. The school is around 5 miles down the A672 towards Halifax, from junction 22 of the M62. The school post code is HX6 4QA. Don't think you have gone wrong when you are passing lots of sheep on the way - the school is at the start of civilisation - just past the second pub, and on the left side of the road, stood back from the road. The event remains exactly as it was in Rochdale - except in a new & larger venue.
Photos of the 2009 convention by Richard G3UDF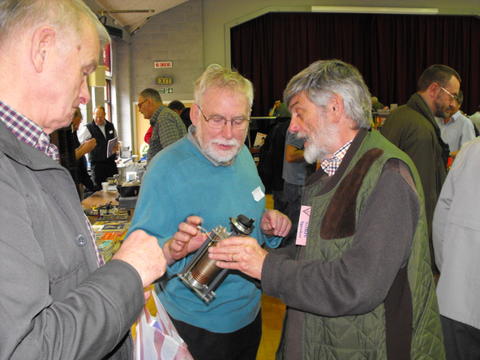 George G3RJV says "I can make a nice ATU with that!"
Photos of the lecture theatre and audience.
Part of the big hall with plenty of room to sit and chat.
Accommodation close to Rishworth (please confirm price with the hotel).
THE MALT HOUSE
270 Oldham Road
Rishworth
Sowerby Bridge
Halifax HX6 4QB
01422 822 382
www.malthouserishworth.co.uk
Last year: £55 per night - Breakfast £5.95
The Malt House usually does a special deal for the convention - ask them about it. This one is just a short walk from the school, and you get to park in their car park!
PREMIER INN - Huddersfield West
New Hey Road
Ainley Top
Huddersfield
West Yorkshire
HD2 2EA
0870 990 6488
Last year: Fri-Sun from £51 per night
PREMIER INN - Rochdale
Newhey Road
Milnrow
Rochdale
OL16 4JF
08701 977 219
Last year: Fri-Sun from £53 per night
THE TOWER HOUSE HOTEL
Master Lane,
Pye Nest,
Halifax HX2 7EW
www.towerhousehotel.co.uk
Last year: Fri/Sat: Single £45, Double £64.50 per night