Rishworth QRP Convention 2016 will be on Saturday 22nd OCTOBER 2016.

As announced in Sprat, this will be the last ever convention in its present form - unless of course volunteers come forward to organise it.
OPENS AT 10.00am * ADMISSION £3.50 * DOORS OPEN 10am
LARGE SOCIAL AREA * LECTURES ON QRP SUBJECTS * BRING & BUY - SURPLUS JUNK
COMPONENTS KIT TRADERS * FOOD & DRINK ALL DAY WITH THE FAMOUS PIE AND PEAS * ON-SITE CAR PARKING ONLY AVAILABLE FOR THE DISABLED.
PLENTY OF ON STREET PARKING.
Previous Rishworth conventions on Youtube ... 2012 , 2013, 2013
The GQRP Convention meets at the Rishworth School, on the A672 (Ripponden) road from junction 22 on the M62. George G3RJV has organised the usual lecture stream. The speakers will deliver their talks in a purpose built lecture theatre, and we have an excellent range of speakers. Even the regular pie man has promised to serve the usual excellent fare.
A Buildathon is where novice constructors build a project under the guidance of experienced radio constructors.
2016 Project: More details here
All Lectures are in the Performing Arts Centre Located across the courtyard from the Assembly Hall (within the covered area)
There will be three speakers:
11.00am – Roy Llewellyn, W7EL, who will be conducting an Antenna Question and Answer session. Roy has a long track record of antenna modelling programs, and his Optimised QRP Transceiver is a design that has stood the test of time and is still being built.
13.00pm – Rex Harper, W1REX, who will be talking about building QRP rigs on the kitchen table. This will be followed by what we hope will be the UK's biggest buildathon, where all attendees to his talk will be given a small kit and instructions will be given on how to build it. Rex, it will be remembered, hosted the worlds biggest buildathon in Dayton earlier this year where over 350 people who attended his talk there built a kit whilst sat at their seats.
14.00pm – George Dobbs, G3RJV, will give a talk on QRP . . . club and personal. The G-QRP Club has been in existence for over 40 years, and George will take a little time to look back - and forward. This is also to wind up our last convention at Rishworth.
The table booking arrangements are in the very capable hands of Dick Pascoe G0BPS (01303 894 390).
Note: If all tables become booked ask to be put on a reserve list please contact Dick.
Here is a map. The school is around 5 miles down the A672 towards Halifax, from junction 22 of the M62. The school post code is HX6 4QA. Don't think you have gone wrong when you are passing lots of sheep on the way - the school is at the start of civilisation - just past the second pub, and on the left side of the road, stood back from the road. The event remains exactly as it was in Rochdale - except in a new & larger venue.
Photos of the 2009 convention by Richard G3UGF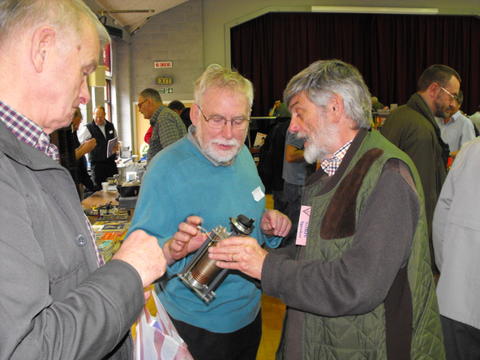 George G3RJV says "I can make a nice ATU with that!"
Photos of the lecture theatre and audience.
Part of the big hall with plenty of room to sit and chat.